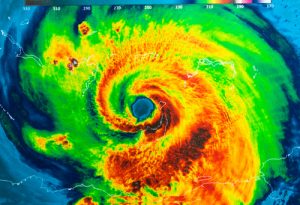 Houston Could Lose Electricity This Week
Hurricane Laura is predicted to make landfall somewhere between San Luis Pass, Texas and Intracoastal City, Louisiana as the season's first major hurricane. Packing Category 3 winds of 100 mph, the storm is expected to make landfall sometime either late Wednesday or early Thursday morning. With winds that strong, state emergency officials know that it isn't a question of "if" the electricity goes out but rather "when". The damage caused by the wind and rain from Hurricane Harvey in 2017 took CenterPoint Energy nearly two weeks to return to normal operations. 
While many Houston households own small gas-powered generators, not all do. And if you haven't made plans for what you're going to do when your Houston electricity shuts off suddenly in the middle of the storm, then you need to get ready now!
Are You Storm Ready?
The most important place to start getting ready to shelter in place is to assemble a basic emergency supply kit that will keep you and your family fed and healthy while the power is out. A basic emergency supply kit contains simple essentials to last three to seven days that don't require electricity usage:
1 Nonperishable food for 3 to 7 days such as canned or dried food. Don't forget the  hand crank can opener and eating utensils. Also remember baby formula and dried pet food.
When the electricity in Houston goes out, they last thing you want to do is open your refrigerator. Because of the way most fridges are built, when you open the fridge door, all the cold air falls out onto the floor and the warmer room air rushes in. With the power out, there's no way to keep the contents cold each time you open the door. If you open the fridge only when necessary, your perishable foods will last longer. 
The Hack
Freeze plastic bottles of water (do not fill bottle all the way full, ice expands as it forms) as soon as you can.

 

Put food items you want to get at more often without having to open the fridge into coolers. Use frozen water bottles (or cooler gel packs) to keep them cold.

 

Freeze perishable foods you're not likely to use immediately, that includes meat, leftovers, and milk.
Group items closely together (but don't stuff the fridge full). This helps them stay colder longer.
If you have a chest freezer — keep the door closed. You can also pile blankets on top of it to help insulate it and keep it colder longer.
2 Five gallons of drinking water per person which should last for three to five days.
The Hack 
Ideally, you want to keep the water in a convenient, sealable container such as a large jug or camping cooler. But power failures are seldom announced in advance. And though city water pumping systems rarely fail, they can.
Since the air conditioning will be out, it's going to be important to stay hydrated. So, you'll probably need more water on hand than you might think. To be on the safe side,

 

fill up several clean 5 gallon buckets in your bath tub before the storm. Keep lids on them to keep the water clean for drinking, face and hand washing, or washing utensils.

 
3 Plastic trash bags, baby diaper supplies, and toilet paper.
The Hack
Ideally, you want to keep garbage away from the living area to minimize the risk for disease. Because there will be wild animals in Houston foraging for food, you'll want to keep lids on your trash bins and store them in your garage or a shed that you can keep closed. Denying food to animals like raccoons, coyotes, skunks, and alligators will send them elsewhere for easy pickings.
4 First aid kit as well as medications. Don't forget soap and toothpaste. Because of COVID-19, you'll also want to include face masks and hand disinfectants.
The Hack
5 Flashlights, solar-power lamps, extra batteries, and tools. Avoid using candles or oil lanterns as they are a fire risk. Also pack a pack a battery-powered radio to help you keep informed about conditions during the storm and after it is over. Make sure everyone in your family has their own flash light or solar-powered lamp.
The Hack
A good quality basic tool set can be a lifesaver when you least expect it. It should contain a claw hammer, a slotted screw driver, a Phillips screw driver, a pair of slip joint pliers, and a utility knife.
How Long Will Refrigerated Food Last Without Electricity?
How long your food stays cold depends on how well insulated and sealed your refrigerator is and how often someone opens the door. The FDA estimates that the average fridge will stay cold for about 4 hours.  A full freezer will stay cold for about 48 hours.
Another solution for long power outages is to buy dry ice. FDA estimates a 50 pound block will keep a standard sized fridge (18 cu. ft) cold for two days.
That said long power outages usually means that you'll lose some of your refrigerated food. That's because some foods are safe to eat once they sit and warm up for a couple of hours. While your nose may know when food has gone bad, the rule of thumb here is, when in doubt, throw it out.
Throw out these foods if their temperature is over 40°F for two hours:
meat
poultry
fish
eggs
cooked leftovers
potato salad
casseroles
Pizza with any toppings
Soft cheeses (cottage cheese, mozzarella, Muenster, etc)
milk and related dairy

 

cut fruits and vegetables
opened jars of spaghetti sauce
opened salad dressings
mayonaisse (any condiment made with egg)
fish or oyster sauces
cooked pasta
Foods That Are Safe to Keep
(While these foods don't need to be kept refrigerated, most Americans store them in their fridge anyway.)
hard cheese (cheddar, Parmesan, Romano, Swiss, etc)
processed cheeses
butter
dried fruit
uncut fruit
mustard, catsup, pickles, salsa (almost any condiment in vinegar)
peanut butter
jams, jellies, marmalades
Get Ready Texas
Houston and other towns along the Gulf coast won't be the only places affected when Laura comes ashore. When powerful hurricanes move far inland, they bring flooding and high winds that cause enormous damage, disrupting your Texas electricity service for hours or even days. But there's still time to get informed and get ready.
Check out these useful preparedness resources at Texas Ready.
Look for updates and evacuation news at the Texas Hurricane Center. 
For up to the minute flooding information, see the Texas flood map. Turn around! Don't Drown!